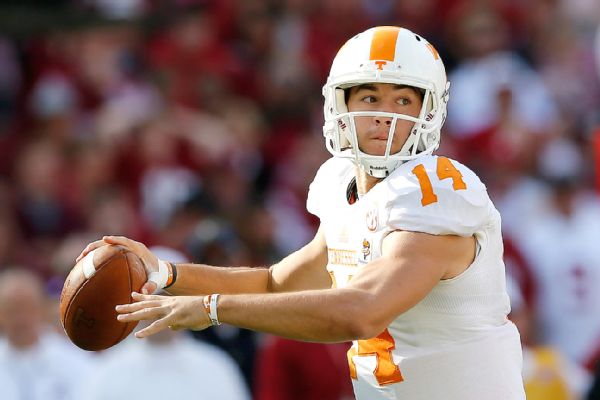 today, we are blessed with a 2014
season preview
from ESPN.
Breakout player: Most of the preseason drama at Tennessee revolved around the quarterback race, but Jones ended that last week when he named Worley the starter. Had he not injured his thumb and missed the remainder of the season a year ago, the Vols probably would have gone to a bowl game. He's been put in some tough positions during his career, including being thrown to the wolves as a true freshman before he was ready. But he's persevered. His arm has gotten stronger. He's healthy now, and he also has more playmakers around him this season. Nobody's pushing him for the Heisman Trophy or even All-SEC honors, but here's betting Worley has a very solid senior season after throwing more interceptions (13) than touchdown passes (11) in his previous three seasons.
Most important game: We'll cheat and go 1A (Florida on Oct. 4) and 1B (Missouri on Nov. 22). Both games are at home, and both will go a long way toward determining whether or not the Vols can make it to the postseason. They've lost nine in a row to Florida, so ending that drought would be a big step in the right direction for Jones and the program. The Missouri game is sandwiched between a home game with Kentucky and the regular-season finale at Vanderbilt. It could be that the Vols have to win all three to go bowling.
also important to know, the SEC network is dedicating much of it's airtime
tonight and tomorrow
to the vols. here is the schedule:
Tuesday, Aug. 19
8 p.m. - 2014 Tennessee Football Preview
9 p.m. - SEC Storied: The Color Orange, The Condredge Holloway Story
11 p.m. - 2014 Tennessee Football Preview
Wednesday, Aug. 20
12 a.m. - Nine For IX: Pat XO
1 a.m. - 2004 Football: Tennessee vs. Florida
3 a.m. - 2005 Football: Tennessee at LSU
5:30 a.m. - 2013 Football Tennessee vs. South Carolina
12 p.m. - 2007 Football: Tennessee at Kentucky
2 p.m. - 2014 Tennessee Football Preview
now, if one of the hundreds of you that are using my netflix / hbogo / hulu logins has access to the SEC network on your cable, kindly email me with your username / password so that i might enjoy this on my roku. plz and thx.