05 March 2012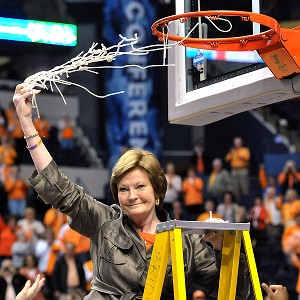 NASHVILLE, Tenn. -- Well, sure, it had to end this way Sunday. The same way the SEC women's basketball tournament had ended 15 times previously: with Tennessee coach Pat Summitt holding the trophy.
The second-seeded Lady Vols -- who lost four games during SEC regular-season play -- were not to be denied here in middle Tennessee, not that far from where Summitt grew up. They beat No. 4 seed LSU 70-58 at Bridgestone Arena, to the delight of the orange-clad among the 12,441 fans in attendance. Which was the bulk of the crowd.
They cheered Summitt at every opportunity -- when she walked in, when she got up to chastise the referees, when her picture was flashed on the giant video screen. And when the game ended, a spontaneous chant of "We love Pat!" swept through the arena.
Of course they love her. Summitt has spent her entire life in Tennessee, and no one has better symbolized consistent excellence for any university than she has. Sunday's victory meant Tennessee now has a "Sweet 16" collection of SEC championship trophies.

(via)
see you in the final four, ladies!
Posted by

kylie
0 comments